There is a widely held belief in the mainstream that "the debate has been settled" regarding Global Warming. If, however, you look at the financiers, beneficiaries and the tactics used to push forth with the Global Warming research and the associated policy, it gives one reason to be suspicious of what is really going on here.
More attention needs to be paid to non-conventional views on Global Warming. While the government has shelled out nearly $80 billion U.S. dollars to scientists, in order to generate research indicating man-made global warming is real; only $23 million U.S. dollars have been given to scientists with a skeptical angle.
Give a large swath of scientists a momentous sum of money and they will publish papers showing just about anything is true, whether or not that is actually the case. When you have a massively dis-proportionate sum going to one side of the argument; you will likely have the illusion of consensus and most people will believe that your research proves something concrete.
I'd like to present a few alternative views for your consideration. Now I'm sure these aren't the be all end all proof of anything in particular; but at least they show an alternative viewpoint and provide a window into the kinds of individuals and organizations involved, as well as the motives, behind the push for Climate Change taxation and regulation.
---
The Skeptics Handbook II: Global Bullies Want Your Money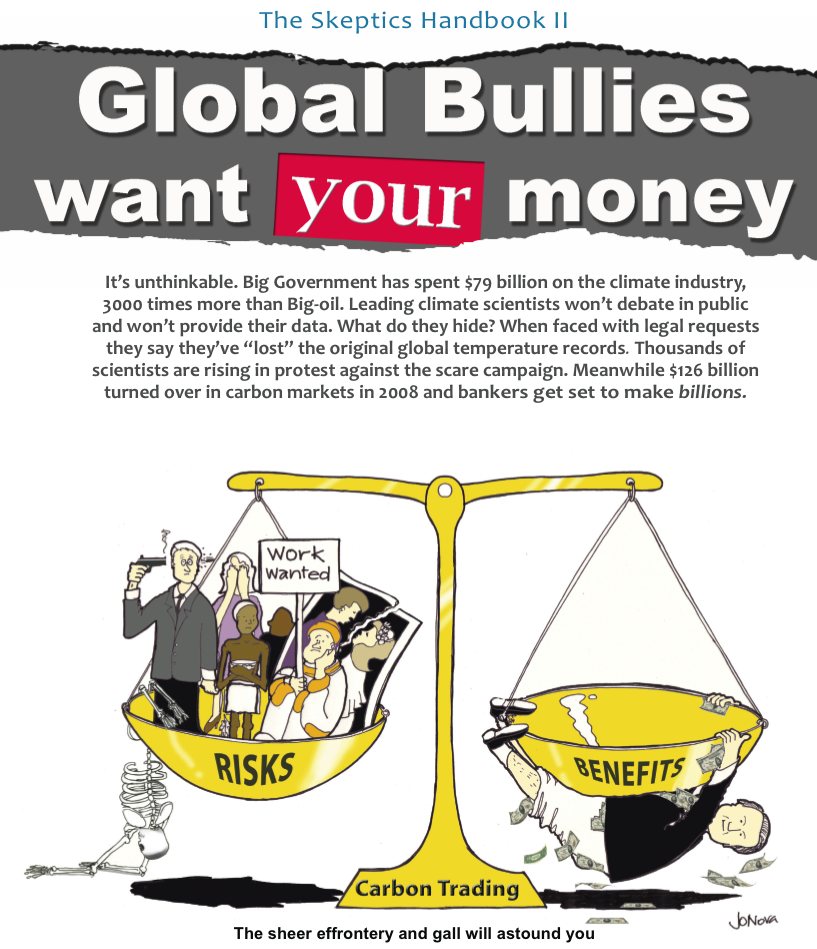 Global Warming Skeptics Handbook
It's unthinkable. Big Government has spent $79 billion on the climate industry,
3000 times more than Big-oil. Leading climate scientists won't debate in public
and won't provide their data. What do they hide? When faced with legal requests
they say they've "lost" the original global temperature records. Thousands of
scientists are rising in protest against the scare campaign. Meanwhile $126 billion
turned over in carbon markets in 2008 and bankers get set to make billions.
Great Global Warming Swindle
Everything youve ever been told about Global Warming is probably untrue. From Al Gore's An Inconvenient Truth to news reports from the popular media outlets and even public classrooms which, in chicken little fashion, seem to be screaming – the sky is falling. But is it really? This film blows the whistle on what may be the biggest swindle in modern history. We are told that Man Made Global Warming is the biggest threat ever to mankind and that it may even threaten our very survival; and, if we do not change our ways and reduce CO2 emissions – polar ice caps will melt, coastal areas will flood and hurricanes like Katrina will become common. With nearly Gestapo like tactics we are told not to question! There is absolutely no room for doubt because there is a "scientific consensus." Anyone who questions the data or conclusion is an enemy of the state and humanity. Well, bring it on because this is exactly what this well documented film does. The Great Global Warming Swindle uses a plethora of leading scientists who will not bend to political or philosophical or ideaological pressure. So watch this film and make up your own mind.
CBC Documentary: Global Warming Doomsday Called Off
In this eye-opening documentary viewers will discover how the most respected researchers from all over the world explode the doom and gloom of global warming.
Humans stand accused of having set off a global climate catastrophe by increasing the amount of carbon dioxide in the atmosphere. The prophecy of doom is clear and media pass on the message uncritically.
Now serious criticism has arisen from a number of heavyweight independent scientists. They argue that most of the climatic change we have seen is due to natural variations.