Posts tagged
Environmental Destruction
0
We really should be proud of ourselves. At this time, there is now an island TWICE the size of Texas in the Pacific Ocean. Also, plastic particles now outnumber plankton 6 to 1.
It really is pitiful that we have sunk to this level, where wild animals can no longer go about there lives without being constantly bombarded by the plastic bags that we don't even need to use.
6
Paul Goettlich | Living Nutrition
Anyone who gets email has seen the one containing fraudulent predictions of Nostradamus. About four years ago, I received a similarly suspicious email stating that a researcher had found six times more plastic than plankton floating in the middle of the Pacific. This one struck a chord with me because of my knowledge of plastics. I wanted to find out if it was just a prank or, heaven forbid, the truth.
I tracked down the source, which was Captain Charles Moore, the founding director of the Algalita Marine Research Foundation (AMRF). He sent me a study he coauthored: "A comparison of plastic and plankton in the North Pacific central gyre" from Marine Pollution Bulletin[1] — a well-respected, peer reviewed, scientific journal. The study substantiated his claim that "the mass of plastic was approximately six times that of plankton." A large percentage of that is made up of tiny bits of plastic — called nurdles — that have not yet been made into a product. (more…)
2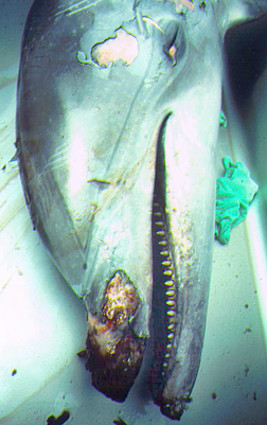 The U.S. Army, in its infinite wisdom, decided that the best way to dispose of its life-eradicating trash is in the world's oceans. They do all of this despite the fact that such dumping has a major effect on marine wildlife. No real surprises here, however, since they have repeatedly demonstrated that this is what the Army is good at, destroying life in whatever way is convenient.
Munitions Dumping at Sea

It is no secret that the U.S. military has used the ocean as trashcan for munitions in the past. Peter discussed at the Old DSN how federal lawmakers were pressing the US Army to reveal everything it knows about a massive international program to dump chemical weapons off homeland and foreign shores. "The Army now admits that it secretly dumped 64 million pounds of nerve and mustard agents into the sea, along with 400,000 chemical-filled bombs, land mines and rockets and more than 500 tons of radioactive waste – either tossed overboard or packed into the holds of scuttled vessels." Brian pointed me to the Daily Press's in depth coverage of this whole issue. Registration is free and only takes a minute or two and is extremely worthwhile. Included at the site are maps of disposal sites (downloadable as pdfs), stories, descriptions of items dumped including nerve and musturd gas, and rather depressing pictures some are below the fold (all from Daily Press). (more…)