Posted in
Mainstream Media Hoaxes
on September 10, 2007
WeAreChange.org gave Fox News host Geraldo Rivera a nice surprise during his show on September 8, 2007. While shooting a live shot on the streets of New York City a group of over 400 protesters, protesting the 9/11 controlled-demolition conspiracy, demonstrated in the background.
The protesters did an excellent job of getting airtime, the whole event played out on the Time Square Jumbotron.  They angered the media stooge so much that he flipped them the bird, called them anarchists and communists, and said, "I think these demonstrators are all into rest room gay sex."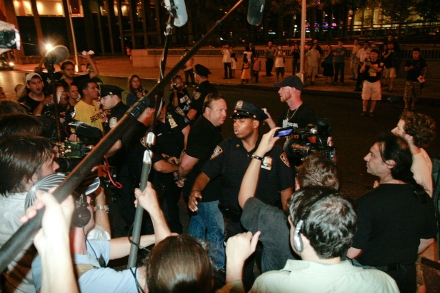 Eventually the NYPD goon squad was called out to break up the obscure pocket of free speech that had made its way onto the airwaves. They singled out Alex Jones, physically charging, assaulting and then arresting him, as well as anyone filming the arrest, including a Discovery Channel cameraman. Jones was later released after a large crowd of supporters surrounded the precinct chanting "let him go."
The group were told that they didn't have a permit to protest. A permit is government permission to do something that would otherwise be illegal – meaning the right to peaceably assemble and free speech as defined in the Constitution have been officially outlawed.
"Word came in that Geraldo Rivera was giving a live broadcast only a few blocks away," writes We Are Change. A truth squad quickly dispatched itself to the scene. There, the group chanted a deafening "911 Was An Inside Job" endlessly. The police were concerned with us blocking the sidewalk, but so long there was a clear path we remained about 20 feet from Geraldo. All of the signs and banners were visible on TV, and it just happened to be up on the jumbo screen in the middle of Times Square. Then the rest of the group saw Alex Jones was suddenly pulled aside and arrested by police.

Groups headed out and searched for the precinct Alex was taken to. After finding the location, the rest of the group met there and demanded Alex's release. Within only a few hours, we got what we wanted!