Posted in
Mainstream Media Hoaxes
on October 3, 2005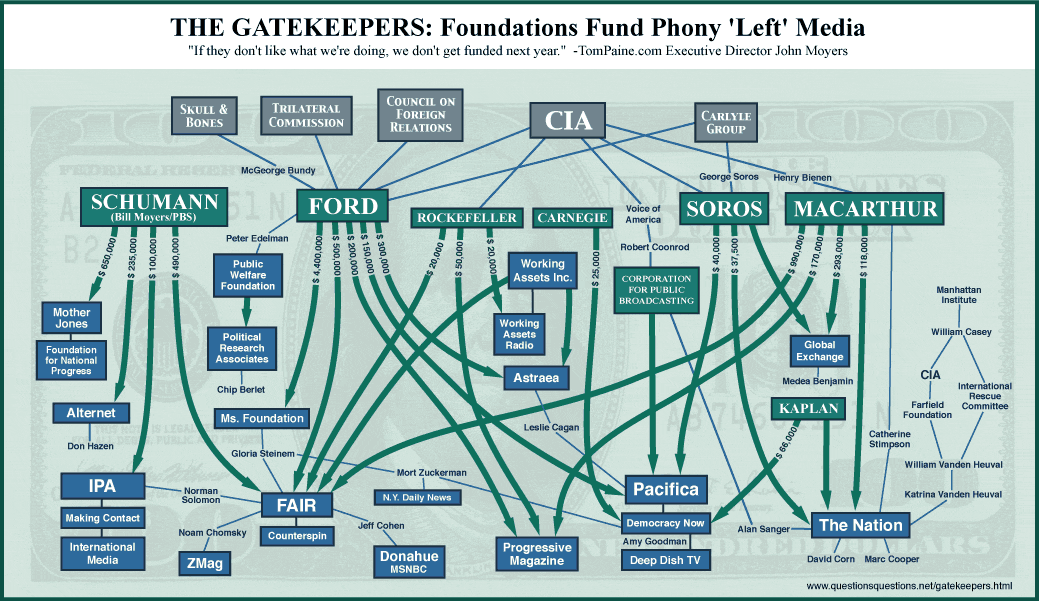 By Anonymous
September 27, 2005
"Since 9-11, he has steadfastly refused to discuss the evidence of government complicity and prior knowledge. Furthermore, he claims that the Council on Foreign Relations (CFR), Bilderberg Committee, and Trilateral Commission are "nothing organizations." When critiquing poverty, he never mentions the Federal Reserve and their role in manipulating the cycle of debt. Similarly, he claims the CIA was never a rogue organization and is an innocent scapegoat; that JFK was killed by the lone assassin Lee Harvey Oswald; that the obvious vote fraud in 2004 did not occur…"
Noam Chomsky is often hailed as America's premier dissident intellectual, a fearless purveyor of truth fighting against media propaganda, murderous U.S. foreign policy, and the crimes of profit-hungry transnational corporations.
He enjoys a slavish cult-like following from millions leftist students, journalists, and activists worldwide who fawn over his dense books as if they were scripture. To them, Chomsky is the supreme deity, a priestly master whose logic cannot be questioned.
However, as one begins to examine the interviews and writings of Chomsky, a different picture emerges. His books, so vociferously lauded in leftist circles, appear to be calculated disinformation designed to distract and confuse honest activists. Since the 1960's, Chomsky has acted as the premier Left gatekeeper, using his elevated status to cover up the major crimes of the global elite.
His formula over the years has stayed consistent: blame "America" and "corporations" while failing to examine the hidden Globalist overclass which pulls the strings, using the U.S. as an engine of creation and destruction. Then after pinning all the worlds ills on American imperialism, Chomsky offers the solution of world government under the United Nations.
In his book "The Conspirator's Hierarchy," Dr. John Coleman named Chomsky as a deep cover CIA agent working to undermine social protest groups. Certainly Dr. Coleman's claims appear validated by an honest review of Chomsky's role as a Left gatekeeper.
Since 9-11, he has steadfastly refused to discuss the evidence of government complicity and prior knowledge. Furthermore, he claims that the Council on Foreign Relations (CFR), Bilderberg Committee, and Trilateral Commission are "nothing organizations." When critiquing poverty, he never mentions the Federal Reserve and their role in manipulating the cycle of debt.
Similarly, he claims the CIA was never a rogue organization and is an innocent scapegoat; that JFK was killed by the lone assassin Lee Harvey Oswald; that the obvious vote fraud in 2004 did not occur; and that peak oil is real and good for humanity.
What he does advocate is population control, gun control, support for U.N.E.S.C.O., and the end of national sovereignty in favor of a one-world government under the UN. In other words, the major goals of the New World Order.
Chomsky's role in propaganda paradigm is much like that of Karl Marx: to present a false liberation ideology which actually supports the desired solutions of the elite. Marx pointed out the inequalities and brutality of capitalism and then advocated a one world bank, army, and government with the abolition of private property and religion; in other words, the major goals known of the New World Order.
Tens of millions of activists worldwide still remain trapped by this scam, failing to recognize the inherent autocratic and elitist structures of Marxism-Leninism or the newer incarnation under Chomsky.
The Globalist elites and their army of social scientists at the Tavistock Institute understand that people are going to question the inequities of the current economic system. For example, why is wealth distributed so unequally between classes and countries? Why are those living in third world nations allowed to die from preventable diseases and starvation? Why does the U.S. government sponsor and direct such murderous foreign policy? Why was America attacked on 9-11?
In other words, why is the world embroiled in such violence? Who is behind all this suffering? And most importantly, what solutions would relieve the poverty and destruction plaguing the worldwide population?
Enter Chomsky, the controlled opposition, to play the role of re-direct agent. He discusses a mere fraction of the real elite manipulation and then quickly pushes his followers into dead-end solutions and alienating rhetoric. Chomsky's hero status is further amplified by Left gatekeeper publications like Z Magazine, DemocracyNow!, The Progressive, and The Nation.
Is it a coincidence that all of those magazines receive major funding from Globalist front-groups like the Rockefeller Foundation, Ford Foundation, Carnegie Endowment, and MacArthur Foundation? Chomsky may be the head gatekeeper, but he works alongside a network of fellow Globalist assets like Amy Goodman who do their best to appear radical while avoiding all the hardcore issues and deliberately leading the Left into oblivion.
The following analysis will show that Chomsky, a deep cover agent for the New World Order, a master of black propaganda whose true motives become clear with a sober and honest examination.